Products by
LINE
Alphacast
(Kept in Memory of Spyros Koumousis)
Products by
TYPE
FEATURES
---
B'hoys Towne!
City Buildings for B'hoys!
or other Victorian-Era Gaming
B'hoys Towne!, an easy set of 25-28mm cut-and-assemble early Victorian city buildings from TVAG, is the perfect setting for gaming the meanest streets in old New York, or any other city of the Nineteenth or early Twentieth Century.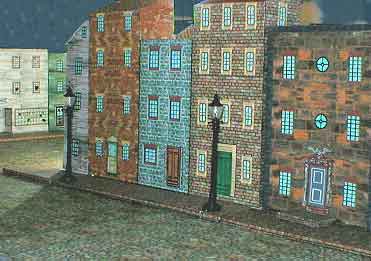 These full-color blocks of buildings have been designed for authenticity and ease of assembly, with frontages of between 9" and 10"and up to 9" in height.
Some are single structures, while others represent two or three buildings joined in the typical "cheek by jowl" urban fashion.
B'hoys' Towne! was designed to complement the groundbreaking line of B'hoys! figures in 28mm and the B'hoys! rules. Gamers can now play with these Riotous Victorians where they belong--on their own streets! But with little or no modification, B'hoys Towne! buildings can also be used for military or adventure gaming anywhere in the Victorian gaming universe, from Birmingham to Barsoom.

All Blocks are 2" deep and come with your choice of cobblestone or dirt streets in a variety of widths and sidewalk arrangements. A full set of B'hoys Towne will provide approximately 180 linear inches of buildings and streets!

Buildings are in architectural styles befitting New York (and much of Europe as well) in the first half of the 19th Century. Most have optional signs designating them as a specific Dive, Flop House, Sporting House, etc, as named in Herbert Asbury's seminal work, The Gangs Of New York. Each Block comes with a selection of 1840-1860 period posters and advertisements. There are even images in some of the larger windows (such as "Poole's Butcher Shop").

All Blocks have open backs for playability and come with extra window sills, door frames, front steps, cornices, signs, or other details to add more "depth" to the models.
(Street lights are NOT included, but more paraphernalia are in the works.)

TVAG and Studio 33
offer full and simple
Online Assembly Instructions
with hints and tips for building B'hoys Towne! .

All of B'hoys Towne is available as PDF files for economical self-printing. At only $10.00 each ($1.00 each for Streets, Piers, etc), delivery is entirely free via E-mail.

---

FAVORITE LINKS
to sites of interest on the web

Fall Back to The Virtual Armchair General's HOMEPAGE
---
All text, photos, and artwork are COPYRIGHTę2003 by Patrick Wilson.
They may not be used without written permission.
Contact The Virtual Armchair General
Names of individual product lines are trademarks (TM) of the manufacturers.