Products by
LINE
Alphacast
(Kept in Memory of Spyros Koumousis)
Products by
TYPE
FEATURES
| | |
| --- | --- |
| | "B'hoys!" Tournament At Fall In! |
---
By special arrangement between TVAG and Dr. Norbert Brunhuber of the New Jersey Miniatures Gaming Society, a pair of demonstration games was played at HMGS East's Fall In! Convention, held November 12-14, 2004, in Gettysburg, PA.

Using large numbers of Bobby Jackson's purpose built "B'hoys!" 28mm figure line, and a full set of "B'hoys Towne" building fronts and streets, as well as resin hex bases and Victorian Urban Barricades from Studio 33 Productions, Norbert was able to introduce two groups of gamers to the riotous good fun of the B'hoys!" game system, written by Chris "Seamlus O'Queeg" Ferree and Patrick "Hamburger Paddy" Wilson, and published by "And That's The Way It Was...."

The following account provided for your edification and entertainment was written and illustrated with photos taken by the Good Doctor himself--when not ducking "Irish Confetti"!

THE NEW YORK DAILY HERALD
"Kerry vs. Bush With Bats and Bricks"
Unprecedented Violence in Certain Downtown Polling Stations
By: Norbert M. W. Brunhuber, PhD
MANHATTAN, NY-- (November 20, 1848)-- This past Election Day saw unprecedented levels of street fighting amidst the regular voting irregularities that have become a reality for downtown Manhattan. In this election year already marred by vicious electoral campaigns, two districts were particularly violent with volatile and angry mobs of Irish Catholics supporting their man, Francis Kerry, meeting equally pugnacious supporters of the incumbent, Samuel Bush. In both cases the explosive mix was created early on Election Day when, as is customary, both parties were bringing their ballot boxes up to the polling station. As a result of this year's bitter and nasty campaign, neither side was prepared to even let the other side set up their box to begin with. Thus the embroilment happened before citizens even gathered to cast their votes. This retrospective article details the happenings of these two especially violent districts which had quite different outcomes, highlighting the utter futility of all the brawling.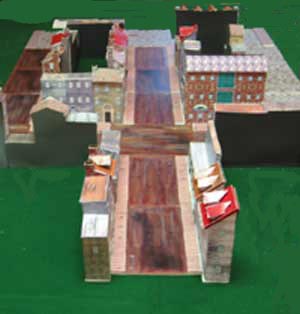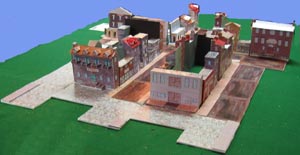 In the first district this reporter witnessed three distinct mobs emerge from their various lairs and converge quite quickly together onto the polling square with their ballot box. This being Samuel Bush's territory, these were clearly all his men using their home turf advantage to set themselves up in bulwark-like fashion to repel the Kerryonians who were already on their way from the southern portion of the district. Kerry's men approached via three lanes towards the square and whether lit by alcohol, intense excitement, or both, they made surprisingly quick progress, which took the Bush defense by surprise. Indeed, the mob on the western spur was already rounding the bend and came into view of the square only as Bush's men had set down their ballot box. Not far behind, the center lane was completely filled, building-to-building, with another Kerry mob who had set their ballot box down just behind them.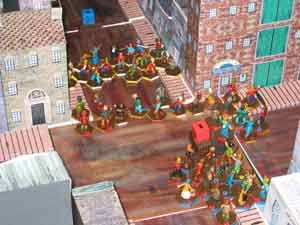 Bush's men elected to keep a wall of brawlers across the center gateway to hold their position, while sending the bulk of their force towards the west to beat off the especially quick mob that was very nearly in the square. Meanwhile, another Bush mob was sent to the east to hold off a slower, but still menacing mob that Kerry had managed to gather for this brawl. The Bush center holding force however was easily beaten off by Kerry's men and with a triumphant cheer they vaulted their ballot box into the square, thus defeated Samuel Bush's plan to exclude them from the election. This shockingly quick success dismayed the Bush men and they left off with any further fighting and instead went on to their usual dirty election tricks and voting irregularities (happily copied by the Kerry side as well), but not without a number of wounded and dead men lying about the square. Fallen from both sides lay in the dirt or suffering with their wounds, forgotten by the others who were focused on winning this district's election at all costs.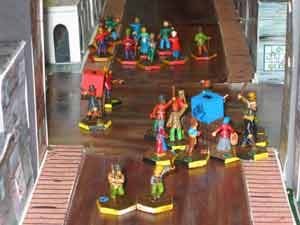 The second district had an entirely different outcome, but certainly no less bloody. Again, since Samuel Bush was the incumbent, his men converged sooner on the approach to the polling square. Interviews with some fighters later in the day revealed that three separate mobs led by men known as Fuller, Glynn, and Evans were present. Their plan seemed to be to stay in a large mass and not rush the ballot box forward into the square. It was their intention to beat back every breathing Kerry supporter who approached them and thereby gain clear dominance over the square. For reasons still unknown, the mob led by a Kerry supporter named O'Mahony was especially aggressive in their approach and descended onto the square from the direct south while slower mobs led by McGeeny and Murphy took a more cautious approach on the western and eastern approaches, respectively.
Perhaps O'Mahony made this move in his zeal to carry Kerry's ballot box up into the square quickly and demoralize Bush's men as had happened at the other district. And indeed as photographic evidence shows, he nearly succeeded with his men bringing it up to the very edge of the southeastern corner of the square, but achingly just short. This resulted in O'Mahony's men gaining the full attention of all three of Bush's mobs who focused their aggression without distraction. Predictably, enough men were wounded or outright killed that the O'Mahony mob broke and ran back south again, leaving their ballot box behind. Bush's men took a moment to cheer their victory, but it was short-lived because as this brawl was going on, Murphy's men rounded the eastern bend and began to hurl their Irish Confetti on the square. The deadly hail was so intense that, try as they might, Bush's men could not reach Kerry's ballot box to destroy it. Indeed their troubles multiplied because McGeeny's mob rounded the western bend and move towards their preoccupied backs intent on fisticuffs.
Realizing that they were about to be enveloped, Bush's gang split their forces with one portion closing in with Murphy while the another turned around to face the coming mob of McGeeny. McGeeny's men were steely and ready for the fight, so despite losses, held their ground. Fuller, the mob facing them got the worst of it and ran off, leaving just a handful of leaders behind. Bush's ballot box was momentarily unprotected. Meanwhile on the other side of the square two of Murphy's sturdy sluggers boldly ran past the mass of Bush men in the square and stood on either side of Kerry's ballot box, viciously knocking back any Bush man who came near it. Their stand held the Kerry movement together and prolonged the bloody mess.
Now the square was in a precarious and dangerous balance between the two gangs. The Bush men closed their ranks and fell together onto the center of the square. At this point, Murphy's men began their final advance from the east onto the square and miraculously O'Mahony managed to gather a remnant of his mob and appeared on southern edge of the square. At this stage of the street fight with many bloody, bruised, wounded, and tired fighters, events unfolded quickly. O'Mahony lunged into the square but Bush forced them to break again. At the same time, McGeeny pushed in from the west, but Bush's circle of men were able to repel them as well. With two-thirds of Kerry's forces now vanished, the remaining men left the scene and abandoned an entire district to the whim of the Bush supporters.
These shocking events show that in the end a perversely equitable balance remained between the two candidates across districts in Manhattan despite the tactic of street fights, raising the argument that not much was really accomplished by either side and this could easily have been avoided. More reasonable men may be able to see the logic in this argument but the miscreants and trouble-makers who make these districts their haunts are not men to be reasoned with and in the end will go on with their senseless violence regardless.


[Appended below is a gallery of photos featuring all the foine lads who made both games possible. and--judging by their mixed looks of determination and joie de combattre -- a good time was had by all.
... At least, once they got to the bars thereafter to celebrate their Donneybrookes!]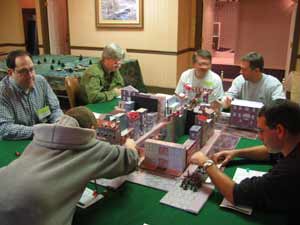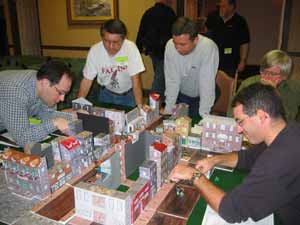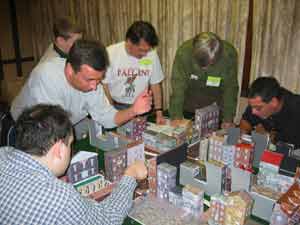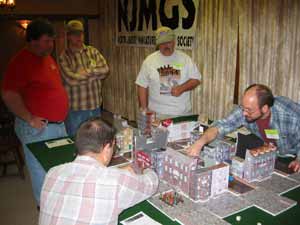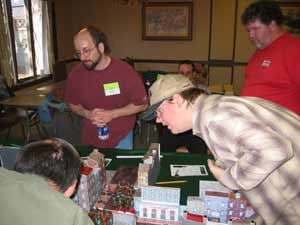 Fall Back to The Virtual Armchair General's HOMEPAGE
---
All text, photos, and artwork are COPYRIGHT©2003 by Patrick Wilson.
They may not be used without written permission.
Contact The Virtual Armchair General
Names of individual product lines are trademarks (TM) of the manufacturers.