September, 2018
"We Only Kill Each Other" (WOKEO) Finally Available
First announced as under development almost fifteen years ago, it finally became the time to press on and finish this project. With credit still due to the late Scott Saylors, WOKEO has been completed as I believe he and I first envisioned it. Not just another skirmish game with cops and robbers, but one that more realistically deals with criminals as societal misfits, rather than just more "soldiers" to order about in a game. Full details appear on the Rules and Books Page along with information on all the FREE accessories being offered to buyers.
We Only Kill Each Other--THE FIGURE RANGE!
New York based wargamer, Frank McGovern, embarked on a labor of love recently and engaged a UK based sculptor to produce a unique range of 28mm range of gangster and underworld types. The "unique" feature is that the range would provide "portrait" sculpts of New York's most infamous gangsters, personalities never offered in miniature before. So far, eight of the most important of these have already been molded, including Arthur "Dutch Schultz" Flegenheimer, Otto "Abba Dabba" Berman (The Dutchman's Policy Numbers genius), Owen "Owney" Madden, Jack "Legs Diamond" Moran, Vincent "Mad Dog" Coll, Charles "Lucky" Luciano, Meyer "The Mobs Accountant"' Lansky, and the very man whose remark named the rules and this range, Benjamin "Bugsy" Siegel. More of these pivotal characters in the history of the Mafia and Organized Crime are in the works, including Albert "The Lord High Executioner" Anastasia, Louis "Lepke" Buchalter, Mendy Weiss, Abe Reles and others associated with "Murder Incorporated," as well as more historical personalities.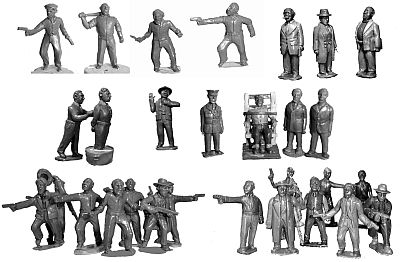 As Frank points out, previous ranges of gangsters seem fixated on Chicago, while these other arguably more significant Mafiosi and Associates are well remembered, but never yet given the same attention. Sculpted to be compatible with most 28mm castings (such as those by Bob Murch of "Pulp Figures"), fifteen figures have already been molded, and a further fifteen are being prepared at this time.
Besides the "named" character sculpts, a wide range of "generic" gangsters and hoodlums wielding a wide range of weapons is far advanced. Three are already molded, seven more sculpted, and another eight to be finished during October.
Not only are these an ambitious selection of Character types as called for in the rules We Only Kill Each Other, but a series of vignettes for life--and death--in underworld will be offered. Already finished is a scene with three figures, one of whom has his feet in cement, and another of the Hot Seat with condemned, Warden, Guard, and Priest. More of these Crime Vignettes are planned, too, such as Albert Anastasia's Last Haircut, and other memorable scenes.
Specifically designed to support WOKEO, the figures will serve as well with any other rules, and can be particularly effective Characters in Pulp Fiction scenarios.
TVAG will be carrying the range ASAP as the first 33 figures are ready for sale, hopefully in time for Christmas shopping!
Viva Juarez!--This Close [Gesturing] to Full Release
Despite my never ending optimism, this range of miniatures for the French Intervention in Mexico are still not quite ready for release. Many new figures have already been sculpted, molded, and cast--I have a mound of units for all parties already labeled in bags, but, frankly, I ran out of cash to finish all the casting necessary to mount all the various Cavalry units. I may offer a special promotion with discounts to those who are willing to buy some of these units and wait a little longer to receive them in order to raise cash to cast the still short numbers of figures.
Among the new sculpts and castings that help to complete this range are new Color Bearers for all units previously without them, full artillery selections for both Republican and Imperialist/French forces, and special Officer/Leader figures for Republican Guerrillas.
All Artillery (Light, Medium, and Heavy, where appropriate) will come as one gun with limber and the buyer's choice of crew type (Republican Regular or Irregular, French or Imperial), and draft animals (4 Draft Horses or 4 Oxen).
Returning as part of the "Viva Juarez!" range will be two classic Ox-Cart models originally offered by Richard Houston. A Small two-wheeled Ox-Cart drawn by a pair of oxen, and a large four-wheeled type with four oxen are each available singly. Not only are they perfect for use in Mexico, they will serve nicely for any number of other eras and places.
Infantry will be offered in units of twenty figures, including a Color Bearer and Officer. An appropriate full color flag will be included in each bag. Cavalry will be sold in twelve-figure units, and Juarista Guerillas units will also have twenty figures with Colors and Leader, but with up to four different poses/weapons in each bag.
Another "Mean Sets" Expansion
With the continuing services of first class gamer and modeler, Glen Allison, five new 28mm model building interiors for the 20's and 30's are now available on the newly upgraded "Mean Sets" page. These latest additions to the range, and three pre-existing models extensively renovated, provide more places to take your role playing adventures.
The new sets include a new Lobby Floor for the "Cheap Hotel" and a redesigned 2nd floor, with staircase from the Lobby. Both floors also have new front and rear exterior walls, and are designed to permit the 2nd Floor to be stacked atop the Lobby.
The "Third Floor" and the Lobby of the "Hotel Metropole" (already part of "Mean Streets") can now be the scene of action whenever a top flight hotel and its rooms are needed.
Four different Offices occupy the floor of an unspecified building where your Characters can engage in any business or seek the services of anyone with office space of their own.
A unique addition to the range is an item of possible interest in late 19th/early 20th Century wargamers of larger conflicts. A cargo barge is now available which has been designed to hold at least twenty 28mm Infantry figures on 3/4" bases for amphibious operations in the days before purpose built landing craft.
Besides the altogether new sets, several have been extensively redesigned both to produce a more easily assembled model and to improve the graphics and game utility. Besides changes to the SMC Cartage Company Garage, and the Small Town Bank, the former "Night Club" has been built up into the long promised "Kit Kat Klub," with new exterior wall and sidewalk, as well as extra interior wall and some internal rearangments. And the former "Italian Restaurant" is now specifically "Madame Lagano's" to match its counterpart in "Mean Streets," and comes with a larger dining area, a private room, a more detailed kitchen, booths, and even chairs and tables with cloths and place settings!
More "Mean Sets" and "Mean Streets" are in development, and all are designed to be perfectly compatible with "We Only Kill Each Other."
"On The Border"
TVAG continues to support 54mm miniatures wargamers and collectors with this latest addition of an entire 54mm Southwestern/Mexican adobe village . Consisting of six distinct buildings ranging in size from 4" square to 10" square, with wall sections, including a Cantina and a Church, players of Western games or Mexican Revolution scenarios now have all they need to conduct large or small scale games with the buildings necessary to make their miniatures feel right at home!
Such buildings in other media could cost hundreds of dollars and require painstaking paint jobs, but these card designs, self printed from the PDF's sold here, are permanent, sturdy, and anything but flimsy if built using foam core as all other such TVAG designs encourage. Some items even come with genuine ECW era posters to mount on their walls!
More 54mm Building Collections for other times and places are in the works. If you have a preference, let me know!
What's Next!
We have received our first restock of Chris Ferree's/Richard Houston's original Tibetans for the 1904 British incursion. Now cast in pewter, with all individually cast weapons, including their signature Jingals, it's just a matter of getting samples assembled and photographed before I can add theirs to the Splendid Little Warriors pages. If anyone will give me an E-mail prod, I'll jump that much faster!
The Rajah Brooke range of 15mm castings for use with The Kris And The Flame, will STILL be re-released ASAP now that new molds have been made of the original castings of Malay, Dyaks, Ilunan, and Chinese Pirates, and Royal Navy sailors and landing parties. The existing range of inexpensive, easy to build card stock ship models will be partially revised and released at the same time. Our plans to create new war canoes and other models cast in either metal or resin are still in place, too.
Knights of The Pacific Northwest may still return this year. The Tlingkit and Russian figure ranges have both been expanded, including new warriors, Russian sailors and Marines. The original rules, with some new additions, will be released at the same time.
There are so many more 25mm Colonial ranges to bring back--too many to list here--but it appears the logjam that faced the RR! and PAORD ranges has broken, and now the flow of old and new ranges can begin!
And now, we return you to the dance portion of our broadcast....