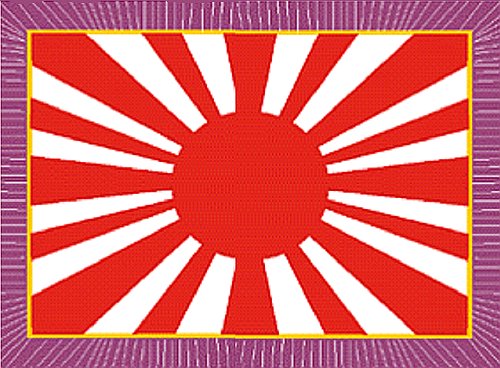 Japanese Uniform Colors
The first new range of Little Warriors represents Imperial Japanese Soldiers and Sailors from 1900 to 1914. Appealing to fans of plastic figures, they come unpainted and cast in a choice of three colors—Infantry and Cavalry Dark Blue (for the early period), Khaki (for the later), and Navy personnel in Winter Blues and Summer Whites.
We believe we are the first and only manufacturer ever to represent all basic types of the Imperial Japanese Armed Forces in this scale, from the start—and at a fraction of the price for any such single figures in metal.
While Little Warriors may be enjoyed in the available casting colors, they are perfectly capable of being painted, either from head-to-toe, or just such parts of uniform or kit as are preferred.
The resin used is especially designed to take the usual hobby paints without need of priming, a real plus for Collectors and war gamers. Basic uniform information (colors, piping, facings, etc) is provided below, allowing Infantry, Artillery, Cavalry, Logistical Support, and other troops to be accurately represented for display, dioramas, and games in the era of the Boxer Rebellion, Russo-Japanese War, and even into 1914.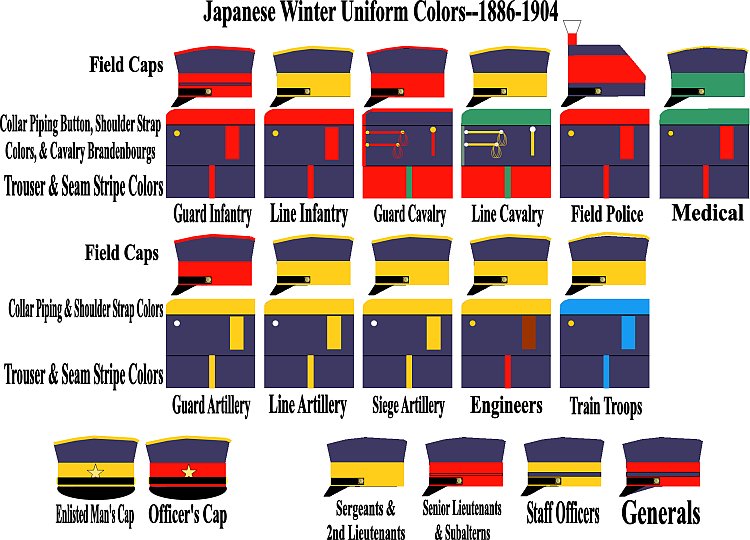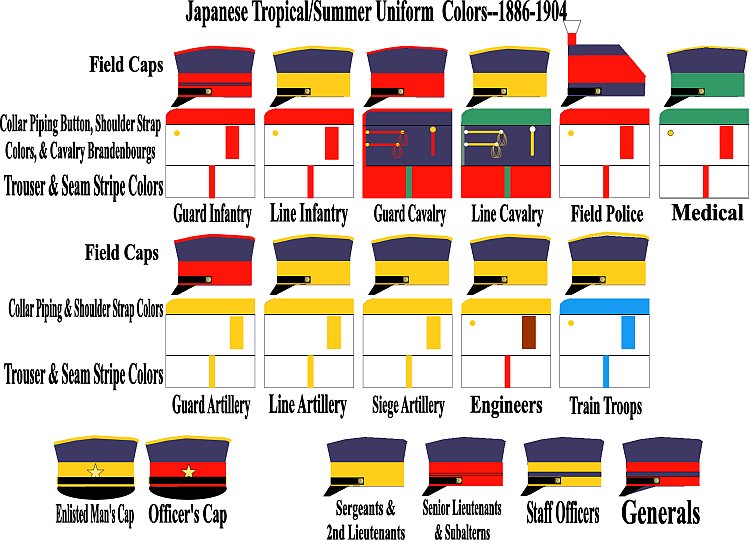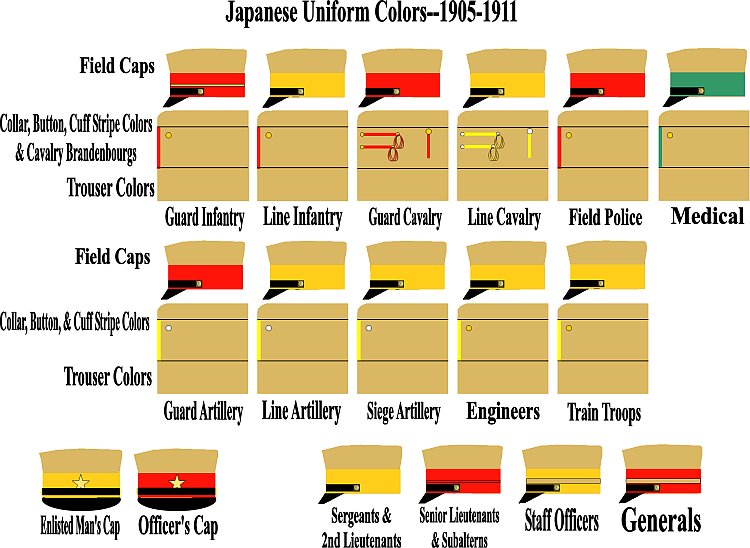 "CENTER">
Belts, ammunition pouches, water bottles, etc, were of dark brown leather, as were boots which were greased, not shined. Gaiters were of white canvass year round. The Tropical/Summer Uniform could be worn with the usual Dark Blue caps, as indicated above, but commonly a white cloth cover was worn over these, making virtually the entire uniform white.
Collars were piped with the indicated colors, and about 1/3 of the way up cuff edge to elbow, a thin narrow stripe of the same color circled the sleeves of Privates, a double stripe for NCO's.
Senior Officers wore black frogging and brandenbourgs on their "mid-night blue" jackets, and black leather boots were common. Staff officers wore a seam stripe broader than that of the rest, and Generals wore a double stripe, all in the appropriate colors. Cavalry Officers wore the same frogging colors, etc, as their branch of service indicates.
The Imperial Japanese Navy hardly changed their uniforms at all during the first half of the 20th Century. As this period print shows, the uniform is essentially identical to that worn by all the world's Navies in that era. (Notice the Officer's gold hatband and the red rank stripes on the men).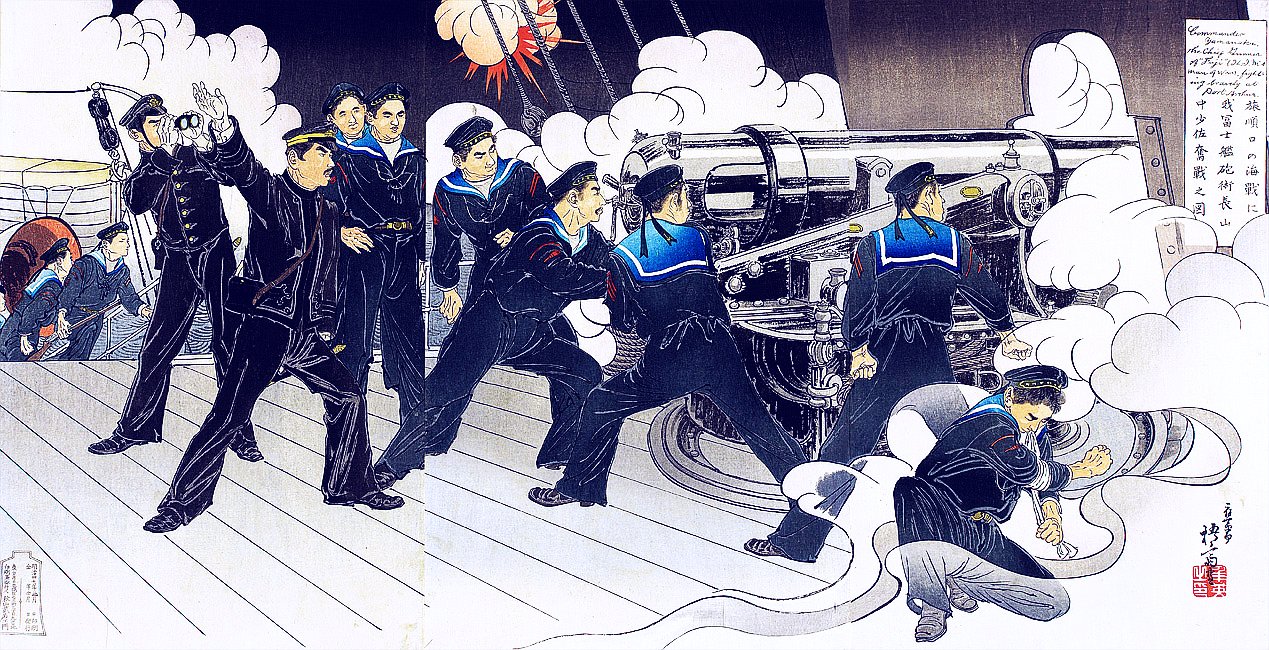 The Summer White uniform is identical in form, while the collar remains the same blue color with single white stripe. Note the other details in this illustration.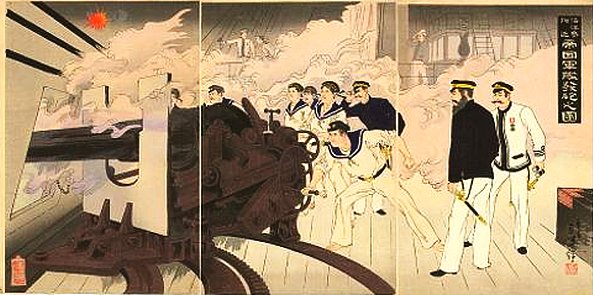 Finally, here is a Naval Signaler in Winter Blues with his right (red) and left (white) Semaphore flags.