25mm Figures for The Abyssinian War of 1868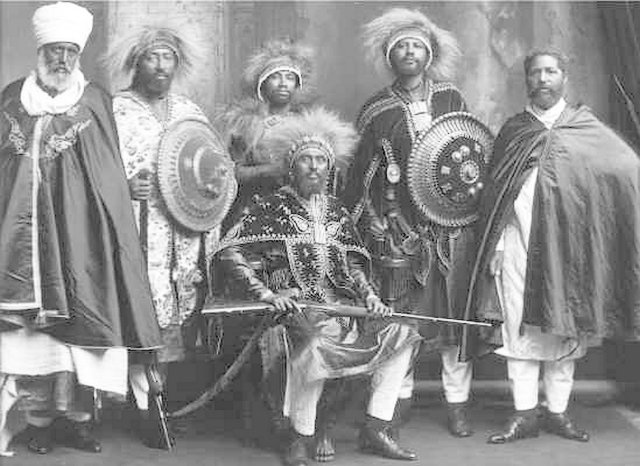 All foot figures are sold in Packs of 25 Infantry, including an appropriate Leader figure. As 50 figures is the full strength of each Unit in the game, two bags equal one Unit.

Figure bags represent Lower and Upper Class Warriors, with the appropriate weapons mixes and types provided. The proportion of 2 Lower Class Units to one Upper Class makes a basic command of a "Tribe." Additional Units of Lower and Upper Class Warriors may be part of a larger Tribe, but the proportions remain the same. It is possible to field as many as four Lower Class Units and still have a single Upper Class Unit in the same Tribe. Players may, of course, field as many Tribes as they wish.

The Royal Bodyguards (of which only the two Units would ever be required) are also provided in bags of 25, with their specific weapons in the correct mix. To represent the Negus on the table, a pair of Tribal Command packs, painted with more silver and gold, etc, to emphasis their rank, can represent The Great Man himself, his "staff" and retainers.

More figures types are in the works (Command and Cavalry) to help give the Abyssinians their full flavor, and increase the means of representing their unique approach to warfare between each other, their Muslim neighbors, and even the Khalifa of the Mahdi himself!

"MAD KING THEODORE'S" ARMY
AB-01
Abyssinian "Tribe" Command Pack
$4.00 per pack
PENDING
AB-02
Abyssinian Royal Bodyguard (Rifle Armed)
$30.00 per pack
PENDING
AB-003
Abyssinian Royal Bodyguard (Spear Armed)
$30.00 per pack
PENDING
AB-004
Abyssinian Upper Class Warriors
$30.00 per pack
PENDING
AB-005
Abyssinian Lower Class Warriors
$30.00 per pack
PENDING
This helpful guide contains background, organizational, and tactical information about the Abyssinians, plus special rules and game related data for fielding them in games of The Sword And The Flame. . Much of this appears in campaign game book for TSATF, The Sun Never Sets, but additional material includes four pages of contemporary color & B&W uniform data and more to help to help build and command your Abyssinians in action.

This PDF file will be sent postage free to the Customer's E-mail address immediately after the order is received.

AB-006
Abyssinian Resource Supplement
$5.00
AVAILABLE
---
Additional New Sculpts to Expand This Line Through The Italian Wars Are Coming Soon, Including More Command, Modern Armed Riflemen, and Cavalry.
---
Uniform Plates
The following illustrations are copyright by their respective owners, but are readily available for view on the Internet. As an extra service, they appear below to help painters new to the Ethiopians see how their figures may be finished for authenticity and best effect on the table top.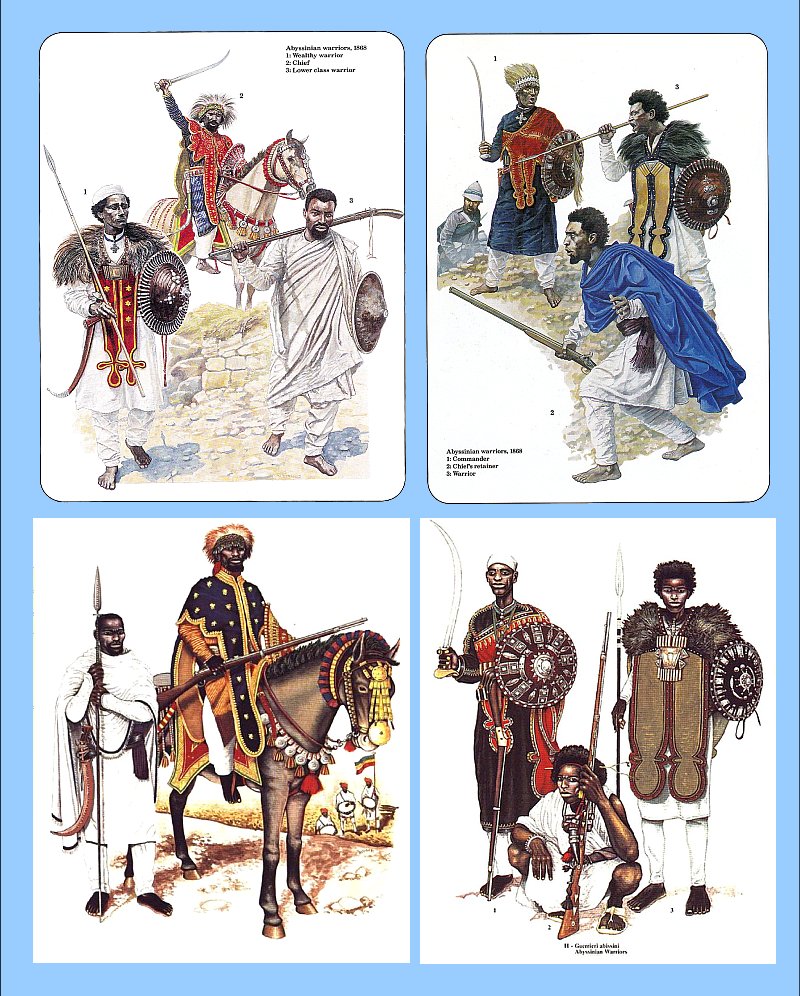 ---
Ethiopian Music
For those who appreciate hearing the sounds of their Native Armies, here is a Link to a recording available from Amazon, and which may be bought on CD or downloaded in whole or part as individual music files. TVAG does not profit in any way from this listing or any sales, except by way of helping Colonial War Gamers to experience more fun with their games. Listen while painting your figures, or play in the background during a game, but music adds the "Third Dimension" to your appreciation of peoples and history.
http://www.amazon.com/Ethiopie-Ethiopia-Mail-Music-Collection/dp/B0014CYZFY/ref=sr_1_1?s=dmusic&ie= UTF8&qid=1373524157&sr=1-1&keywords=ethiopian+traditional